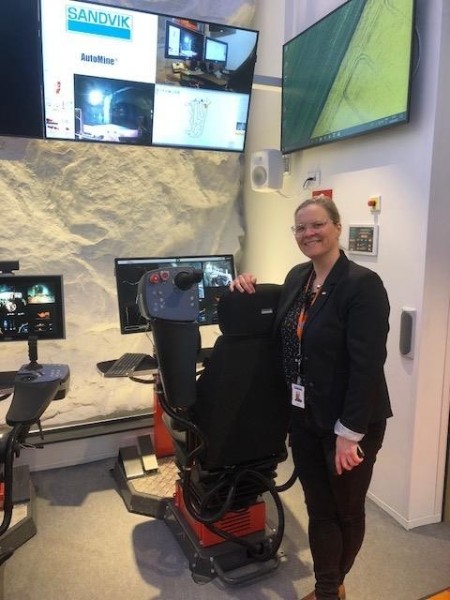 Kv-akatemia vieraili Sandvikilla
Akatemian toisessa moduulissa vierailimme Sandvik Mining Oy:ssä, jossa senaattori  #74545 Henna Kaariluoto kertoi kokemuksistaan Afrikan markkinoilta, sekä JC- ja työelämän yhteensovittamisesta.  Kaariluoto aloitti viemällä meidät test kaivokseen, missä heidän tekniikkaa testattiin todellisessa ympäristössä. Se oli jännittävää ja erittäin mielenkiintoista, vaikka en olekaan insinööri. Kaariluodolla on ollut mahdollisuus kasvaa samanaikaisesti sekä Sandvikillä että nuorkauppakamarin jäsenenä. Saimme myös kuulla eri kulttuurien kommunikaatioesimerkkejä oikeasta elämästä, esim. eitä tulee huomioida kommunikoinnissa afrikkalaisten tai aasialaisten kanssa. Opimme, että tieto on valtaa. Henna Kaariluoto sanoi, että hän on valmis pitämään meille ensi vuonna vastaavan kierroksen. Jos haluat kuulla miksi tieto on valtaa, voit vierailla Sandvikissä seuraavan kerran, kun Akatemia tekee vierailun. Kiitos Henna että saimme tulla kylään!
Saimme myös tutustua Tampereen Nuorkauppakamarin business twinning -konseptiin. Illallisen yhteydessä Ilkka Sasi kertoi viime vuoden twinning-toiminnasta, mistä Tampereen Nuorkauppakamari palkittiin kansallisessa vuosikokouskessa Maarianhamniassa.
Syksyllä kansallisen vaalikokouksen yhteydessä akatemialaiset saavat osallistua tohtori S. Boopathi Narashiman arvostettuun Intellectual Cultural Workshopiin – ilmaiseksi. Lisäksi kesän aikana järjestetään mm. etikettikoulutus. Seuraava tapahtuma on 19.7. Kouvolassa, jolloin myös järjestetään B-alueen piknik. Hajapaikkoja on saatavilla, jos jokin aihe kiinnostaa sinua niin ole pikaisesti yhteydessä vetäjään Agneta Wackströmiin. (agnetawackstrom@hotmail.com)
Kansainvälisyysakatemian tavoitteena on syventää osallistujien käsitystä kulttuurieroista, avartaa ymmärrystä kansainvälisestä liike-elämästä sekä tarjota työelämälähtöinen näkökulma JCI-verkoston kansainvälisyyteen.
Jos sinulla on kysyttävää, ole yhteydessä akatemian vetäjään, Agneta Wackströmiin. agnetawackstrom@hotmail.com
International Business Skills Academy 2018 visited Sandvik
In the second module of the Academy, we visited Sandvik Mining Oy, where Senator #74545 Henna Kaariluoto told us about her experiences on doing business in the African market, as well as coordinating JCI and working life.
Henna Kaariluoto started by taking us to a testmine were the technology is tested in a real environment. It was exciting and very interesting, even for a non-engineer, like me. Kaariluoto has grown in Sandvik at the same time that she has grown as a JCI member. We also got a glimpse of how it is to work and communicate with africans and asians whose culture is wastly different from ours. We learnt that knowledge is power. Henna Kaariluoto said that she is willing to have us again next year. If you want to know the answer to what knowledge is power means, you can visit Sandvik next time the Academy is making a visit.
Next events:
July
19.7 Before the Region B Picnic in Kouvola we will have a session about the possibilities that the railway in Kouvola can provide. We will begin with a (own cost) lunch at 11:00.
at 12-13:00 will will have a company visit to Kouvola Cargo Handling
They will introduce Kouvola Cargo Handling and what they do. We will also get instruction about how we can get products on board and other practical information.  at 13.30-15 Kouvola Innovation Oy company visit. Kouvola Innovation Oy is a dynamic development company owned by the City of Kouvola. Our mission is to increase the vitality of the Kouvola Region by providing key services for companies big and small, new and old.
September
6.9 Company visit and etiquette training with dinner (dinner at the participants' own cost), Porvoo
October
12.10 13:00-16:00  Intellectual Culture Workshop, Dr. S. Narashima Boopathi ("Boo"),  Helsinki
12.10 16:30-18:00 How to do Business in India. Be prepared for the World Conference 2018 in India Goa. Helsinki
JCI Finland's mission is to boost its members' success in working life. We want to help our members get ahead in working life by providing training in International Business skills. These kinds of skills are becoming increasingly important and the International Business Skills Academy is a new platform for developing international working life skills. The International Business Skills Academy will consist of training, company visits and sharing of business experiences in various modules.
For more information or if you still wish to participate in one of the modules, please contact Agneta Wackström, International Business Skills Academy Director 2018,  agnetawackstrom@hotmail.com
Share on Facebook
Share on Twitter
Share on LinkedIn