TEXT & PHOTO: HELENA REBANE
Probably the quickest path to become a CEO is to create your own company. My story doesn't follow that path, though. I often get inspired by other people's bold ideas and then develop a vision and plan to reach that. CEO is just a great position to do that!
The beginning of my life was not very promising for that path. I was born in Estonia (back then still part of Soviet Union) to a family of a teacher and a basketball coach. So, I didn't know much about the business world when I was a child. I ended up studying Tourism and Hotel Management in university, which most people don't consider the best education to support becoming a CEO.
However, during my studies I joined AIESEC, which is an international youth organization. Through AIESEC I was exposed to a huge international network, and also went to work in Nigeria. The experience was priceless, and it gave me the courage to explore more options in my life.
So instead of going to work in tourism, my first real job was a community manager position in a Finnish technology start-up. They were looking for someone with good social media skills, which was a lot to ask in 2009. Luckily to me, I had become a social media wizard thanks to opportunities through AIESEC. Also, my video application made with my very first smart phone was a hit!
As I worked with the company's international brand and learning a lot, it was a dream come true! That's also when I fell in love with technology and how you can use it to help people from all over the world. I was hooked! During the following years I was excited to jump into every possible opportunity in the technology field, even when I was not sure if I had the needed skill set or experience.
I joined JCI in 2016. As I was pondering if my career has any real direction, I decided to have a mentor through my chapter Central Park Helsinki. That was the best decision! After some time of figuring things out I developed a goal for myself – l wanted to become a CEO of an international technology company. It felt so bold to have a goal like this!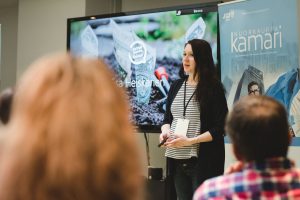 I figured that becoming a COO could be a good step towards CEO. I even added COO as job alert to the most common job search platforms. Without telling anyone about my plans publicly, after some time I was approached by old business friends who invited me to join their company AddSearch – as a COO!
After a year, the CEO decided to leave the position and I was offered to take the place. I was not expecting it to happen, but I knew immediately I'd take it. I guess it's true that success occurs when opportunity meets preparation.