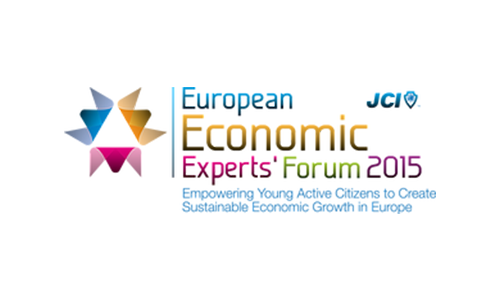 European Economic Experts' Forum lokakuussa Belgiassa – rekisteröidy nyt!
Vielä on mahdollisuus rekisteröityä juhlavuoden Economic Experts' Forumiin, joka järjestetään Ghentissä!
Suomen Nuorkauppakamarit järjesti lajissaan ensimmäisen European Economic Experts' Forumin (EEEF) vuonna 2014. Juhlavuoden kansainvälisiä osaajia yhteen kokoava tapahtuma on muokkautunut paneelikeskustelusta eurooppalaiseksi toiminnalliseksi viikonlopuksi. Tapahtuma kokoaa yhteen nuoria yrittäjiä, talousalan osaajia sekä hallinnollisia toimijoita. Osallistujilla on ainutlaatuinen mahdollisuus verkostoitua, inspiroida toinen toisiaan ja olla osana rakentamassa näkemystä tulevaisuuden talouskasvusta.
Paikka: Ghent, Belgia
Aika: 1.-4.10.2015
Kenelle: max. 100 hlöä, 18-40-vuotiaille nuorkauppakamarilaisille sekä muille käsiteltävistä asioista kiinnostuneille (tämä on upea mahdollisuus tutustua nuorkauppakamaritoimintaan kansainvälisellä tasolla!)
Huippuluokan kansainväliset puhujat ovat mukana ohjaamassa tapahtuman kulkua ja herättämässä keskustelua kestävästä talouskasvusta.
Ohjelmaa päivitetään tapahtuman kotisivuille.
————
Still time to register to the European Economic Experts' Forum, organized in Ghent!
After a first approach in 2014 by JCI Finland by giving birth to the EEEF with a panel discussion, the EEEF team of JCI Belgium has now set up everything for European boost week-end: a week-end where young entrepreneurs, young economic actors and young governmental stakeholders will gather to inspire each other and to shape the vision of a new economic growth."
Place: Ghent, Belgium
Dates: 1.-4.10.2015
For whom: for max. 100 people, 18-40 year old members or interested non-members (what a unique opportunity for a person who is interested to become a JC!)
Very interesting international key note speakers are leading the conversations on sustainable growth and initiating action.
Note that the programme is updated on the EEEF home page.
Register now!
Share on Facebook
Share on Twitter
Share on LinkedIn