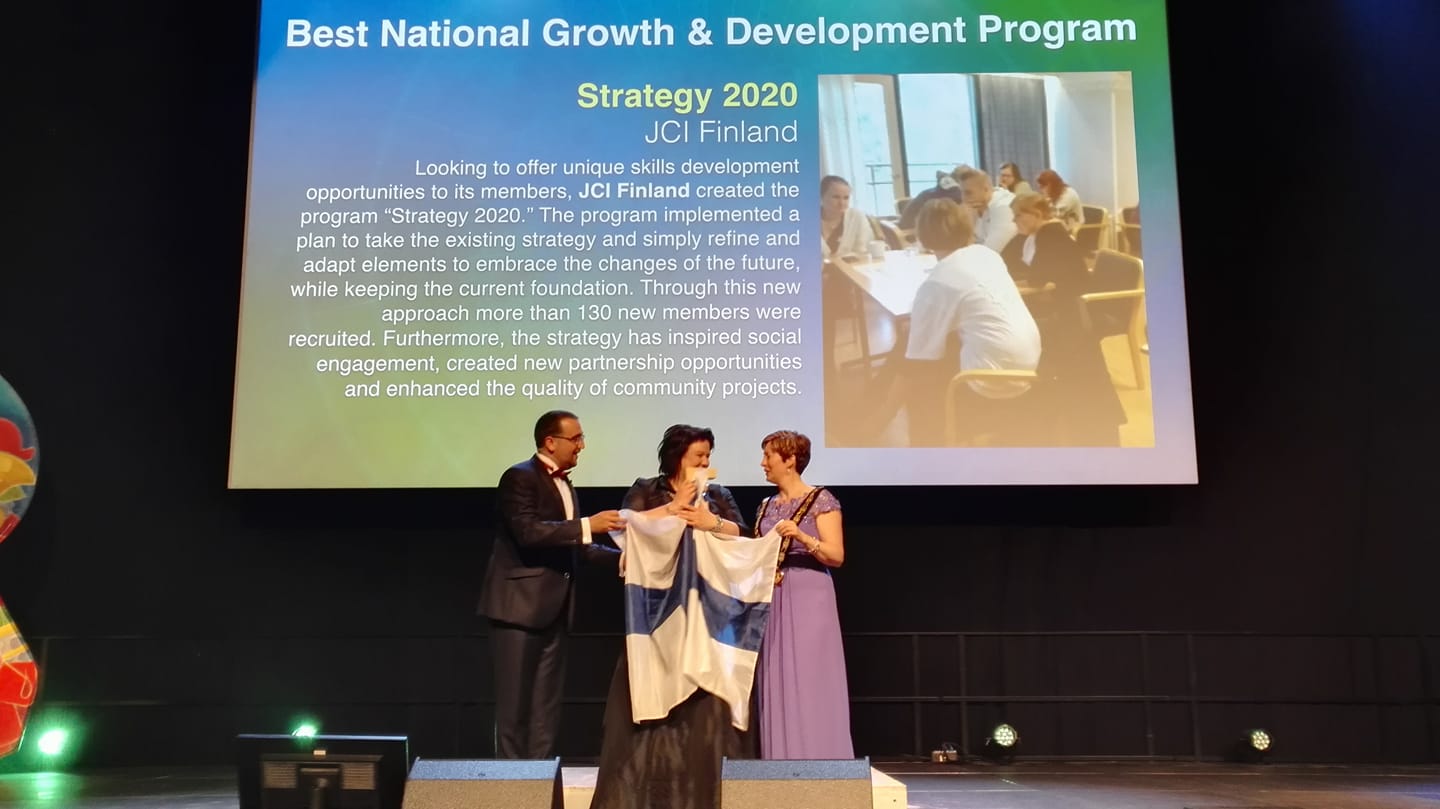 Eurooppa-kokouksesta kaksi palkintoa Suomeen, ja menestystä useassa kategoriassa!
Suomen Nuorkauppakamarit – JCI Finland – loisti nuorkauppakamarien kansainvälisen kattojärjestön JCI:n Eurooppa-kokouksen (European Conference, EC) palkintogaalassa. Vuoden 2016 laadukas tekeminen sai näin kansainvälistä tunnustusta. Menestystä tuli useassa kategoriassa. EC on kaikkien Euroopan nuorkauppakamarimaiden iso yhteinen kokous ja tänä vuonna se järjestettiin Sveitsin Baselissa. Menestyminen Europpan nuorkauppakamareiden tasolla kertoo nuorkauppakamaritoiminnan laadusta Suomessa.
Porin Nuorkauppakamarin Turvapaikanhakijoiden työelämäinfo palkittiin Euroopan parhaana Best Peace Project -kategoriassa. Suomen Nuorkauppakamarien strategiatyö menestyi puolestaan Best National Growth & Development Program -kategoriassa: JCI Finland Strategy 2020 palkittiin Euroopan parhaana.
Palkittujen lisäksi omissa kategorioissaan menestyivät upeasti kolmen parhaan kärkeen sijoittuen:
Kajaanin Nuorkauppakamari (Most Outstanding Local Organization)
JCI United (Most Outstanding New Local Organization)
Tammerkosken Nuorkauppakamari, The Employer of The Year (Best Local Corporate Social Responsibility Program)
Niina Härkönen (Most Outstanding Local President)
Sanna Raikaa (Most Outstanding New Member)
Onnittelut!
Share on Facebook
Share on Twitter
Share on LinkedIn